Dr. A.R.Menon
Health
MBBS; born on 06 April 1886.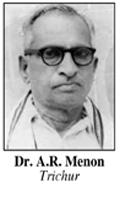 Member, Kochi Legislative Assembly (1925-45), Travancore-Cochin Legislative Assembly (1954-56), 1st KLA [Trichur-Independent], 2nd KLA [Parali-Independent].
Minister for Rural Development for 5 years in Cochin Legislative Council, Minister for Health from 05-04-1957 to 31-07-1959; Municipal Chairman, Thrissur for 14 Years; Chairman, Palakkad Municipality (Twice); Member, Madras University Senate, A.I.C.C.; Had been a Medical Practitioner in England for 11 years before returning to India.
Expired on 09-10-1960 while serving as Member; Obituary made on 10-10-1960.