Shri. K.C.George
Food and Forests
Post Graduate, BL; Advocate; Born on 13 January1903.
Member 1st KLA [Mavelikara-General-CPI].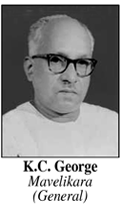 Minister for Food and Forests from 05-04-1957 to 31-07-1959; Member, Rajya Sabha (1952-54); Was Advocate of Travancore High Court till 1938; Leader of Travancore State Congress and its Working Committee Member; Member, KPCC; Played an active role in Punnappra-Vayalar Struggle; When the ban on Communist Party was lifted became the President of Kerala unit of the Party; Joined Communist Party in 1939.
Publications : "Immortal Punnappra-Vayalar", "Ente Jeevitha Yatra".
Expired on 10-08-1986; Obituary made on 17-08-1987.