Shri. P.K.Chathan
Local Self Government
SSLC; Son of Shri Kavalan; born in 1920; Wife: Kali, 3 Sons, 1 Daughter.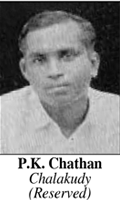 Member, Travancore-Cochin Legislative Assembly (1954056), 1st KLA [Chalakudy-(Reserved)-CPI], 4th KLA [Kilimanoor-(SC)-CPI], 5th KLA [Kilimanoor-(SC) CPI].
Minister for Local Self Government and Harijan Welfare from 05-04-1957 to 31-07-1959; Chairman, Committee on the Welfare of Scheduled Castes/Scheduled Tribes (1974-76); President, Porathissery Panchayat; Vice Chairman, Kerala Khadi and Village Industries Board; President, Kerala Pulayar Maha Sabha.
Expired on 22-04-1988; Obituary made on 25-04-1988.