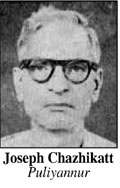 Graduate, Pleadership Examination Passed; born in March 1892.
Member, Sree Moolam Assembly (1944-47), Travancore Cochin Legislative Assembly (1954-56), 1st KLA [Puliyannur-PSP], 2nd KLA [Puliyannur-PSP], 3rd KLA [Kaduthuruthy-KC].
Parliamentary Party Secretary of PSP in first KLA; Member, Kerala University Senate; General Secretary, Vice President and President of All Kerala Catholic Congress; Managing Editor, Kerala Dasan; Reputed for his wit and sense of humour.
Publications : The Syrian Colonisation of Malabar, Thekkumbhaga Samudayacharitram, Caesarinte Bharya.
Expired on 29-10-1983; Obituary made on 12-12-1983