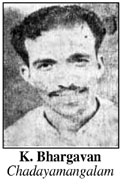 Graduate; Son of Shri Krishnan; born in May 1928; Wife:Suneethi; I Daughter.
Member, 1st KLA [Chadayamangalam-CPI], 2nd KLA [Chadayamangalam-CPI].
State Vice President of Students Federation during 1950-52, Member, Veliyam Panchayat, Participated in the Transport Worker's strike in 1954 and had to endure police assault; Actively took part in the discussion on the Land Reforms Bill to 1960; State Secretary and National Council Member, CPI.
Address : House No.42, Vrindavan Housing Colony, Pattom P.O, Thiruvananthapuram