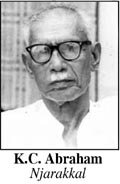 Graduate, L.T. Headmaster; Son of Shri Kochakkan Chacko; born on 20 January 1899; Wife :Elizabeth; 1 son.
Member, Travancore Cochin Legislative Assembly (1954-56), Ist KLA [Njarakkal –Congress], 2nd KLA [Njarakkal-congress].
Governor, Andhra Pradesh from 14-8-1978 to 12-8-1983; Chairman, Committee on Estimates (1963-64); President, KPCC (1964); Member, Congress Working Committee (1967); Had been a renowned teacher for thirty years; Gandhian.
Expired on 14-03-1986; Obituary made on 17-03-1986.