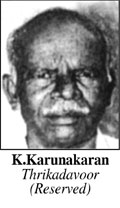 BA; Son of Shri Kochupullan and Smt. Kochikka; born on 31 January 1930; wife : Sulochana; 3 Sons, 2 daughters.
Member, 1st KLA (Thrikkvoor – Reserved CPI)
President, Perinad Panchayat for a long time; Entered Politics in 1950 and joined Communist Party; Active worker of Karshaka Sanghom; Associated with Sasthra Sahithya Parishat, cultural and LIbrary Movements as well as Co-operative movements.
Expired on 14-5-1990; Obituary made on 20-7-1999