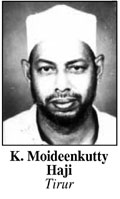 intermediate, TTC; Teacher; Son of Shri.K.Alikutty Haji; born on 01 July 1918; Wife: Ayisha Hajjumma; 6 sons, 6 Daughters.
Member, 1st KLA [Tirur-ML], 2nd KLA [Tirur-ML], 3rd KLA [Tirur-ML], 4th KLA [Tirur-ML], 8th KLA [Tirur-ML].
Speaker 4th KLA from22-10-1970 to 08-05-1975; Chairman, Public Accounts Committee (1976-77), Estimates Committee (1975), Rural Institute, Thavanur, KFC, Kerala Agro Industries Corporation Limited; Member, Muslim League High Power Committee; Deputy Leader & Whip, Muslim League Legislature Party; Vice President, Kerala State Muslim League; Joint Secretary, Muslim League State Committee.
Expired on 12-09-1997; Obituary made on 08-12-1997.