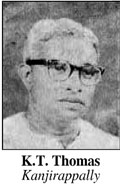 BA BL; Advocate, born on 15 August 1914.
Member, Travancore-Cochin Legislative Assembly (1954-56), 1st KLA [Kanjirappally-Congress], 2nd KLA [Kanjirappally-Congress].
Chairman, Committee on Subordinate Legislation (1957-58); President, Kottayam DCC, Kanjirappally Panchayat; Member, KPCC Entered politics through Travancore State Congress in 1938; Undegone imprisonment and participated in the Civil Disobedience Movement.
Obituary made on 14-07-1995.