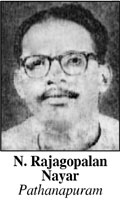 BL; Advocate; born on 10 May 1925.
Member, Travancore-Cochin Legislative Assembly (1952-54), 1st KLA [Pathanapuram-CPI].
President, Punalur Panchayat; Joined INC in 1940; Active worker of Students Federation; Later joined Government service in the Income Tax Department; Subsequently dismissed from service; Undergone imprisonment during 1949-50; Harikatha artist; trade union leader.
Expired on 02-01-1993; Obituary made on 04-02-1993.