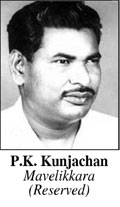 Born in October 1925; 2 Children.
Member, Travancore-Cochin Legislative Assembly (1954-56), 1st KLA [Mavelikkara-Reserved-CPI], 2nd KLA [Pandalam-(SC)-CPI, 3rd KLA [Pandalam-CPI(M)].
Member, Rajya Sabha (1973-79) and 1988, State Secretariat and Central Committee CPI(M), Harijan Welfare Evaluation Committee, Backward Reservation Committee, Kerala State Housing Board; General Secretary, All India Karshaka Thozhilali Union; Participated in the Independence Movement; Served as civilian clerk in the Army; Later joined CPI: Detained under DIR in 1965.
Expired on 14-06-1991; Obituary made on 25-07-1991