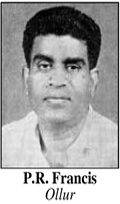 Post Graduate; born on 01 July 1922.
Member, Madras Legislative Council (1954), 1st KLA [Manjeri-Congress], 2nd KLA [Manjeri-Congress].
Minister for Education from 22-02-1960 to 26-09-1962, Minister for Public Works from 26-09-1962 to 10-09-1964; Member, P.S.C, Malabar District Board;Vice President, K.P.C.C.; President DCC Kozhikode; Convenor, Bharat Sevak Samaj; Deputy Leader of Opposition in 1st KLA; Educationalist and Sportsman.
Expired on 01-09-2000; Obituary made on 21-12-2000.