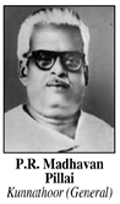 B.A BL; born on 06 March 1917; 3 Sons, 3 Daughters.
Member, Travancore-Cochin Legislative Assembly (1953-55), 1st KLA [Kunnathoor-General-CPI], 3rd KLA [Konni-CPI].
Member, All Travancore Congress Committee till 1948, All India Kisan Sabha, Central Kisan Council, Kerala State Council of CPI; President and Vice President, Kerala Karshaka Sanghom; Entered politics in 1938 as a Congress worker.
Edited 'Keralam' and 'Navalokom' Communist Party organs; Chief Editor of Congress Party organ Yuvakeralam till 1948.
Expired on 25-09-1976; Obituary made on 15-10-1976.