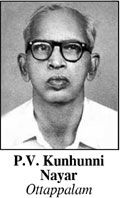 born in September 1910.
Member, 1st KLA [Ottappalam-CPI], 2nd KLA [Ottappalam-CPI].
Took part in co-operative movement of 1928; Convicted twice for participating in Civil Disobedience movement of 1931-32; Joined Congress Socialist Party in 1935 and later in1939 joined the Communist Party; Detained at Vellore Central Jail during Second World War.
Obituary made on 27-11-1986