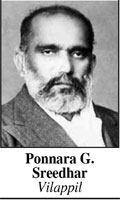 BA, BL; Pleader, Son of Shri.Govinda Pillai, born in September 1899.
Member, Travancore Legislative Assembly (1948), Travancore-Cochin Legislative Assembly (1949-56), 1st KLA [Vilappil-PSP], 2nd KLA [Vilappil-Independent].
Actively involved in Freedom Movement; Participated in the Non co-operation movement in 1922; Nagpur Sathyagraha, Vaikom Satyagraha, Salt Satyagraha and many other agitations; Imprisoned several times; Brutally tortured by the police; Mayor, Thiruvananthapuram Corporation (1956), Prominent Worker of KPCC and the Travancore State Congress; Later joined PSP; President, Travancore Cochin Estate Employees Union and other trade unions; Involved in Tribal and Harijan upliftment work.
Expired on 27-02-1966; Obituary made on 28-3-1966.