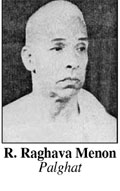 MA, BL; Advocate; born on14 June 1892.
Member, Madras Legislative Assembly (1937-46) and (1946-51), 1st KLA [Palghat-Congress], 2nd KLA [Palghat-Congress].
Minister for Food, Transport & House Rent Control (1946-47) in Madras State; Member, AICC from its beginning till 1952; President DCC, Malabar till it was dissolved; Member, KPCC (1950-60), Became one of the 1st members of Congress in 1919; Set up Practice at Palghat as early as 1917.