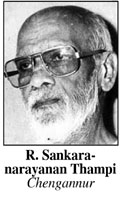 BA, BL; Son of Shri Rama Varma Raja and Smt.Thankamma Kettilamma; born on 30 September 1911; Wife: P.L.Thankamma; 3 Sons, 2 Daughters.
Member, Sree Moolam Assembly (1944-47), Travancore-Cochin Legislative Assembly (1954), 1st KLA [Chengannur-CPI].
Speaker, 1st KLA from 27-04-1957 to 31-07-1959; Chairman, Kerala State Service Rules Revision Committee (1972); Entered politics through All Travancore Youth League and the Travancore State Congress in 1938; Joined Communist Party in 1947; Imprisoned several times; Actively involved in the work of the Forum for Protection of Citizens rights and Forum for social justice.
Expired on 02-11-1989; Obituary made on 22-01-1990.