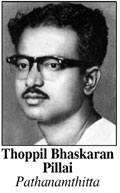 SSLC, Vaidya Kalanidhi; Son of Shri Parameswaran Pillai and Smt.Nanikutty Amma; born in April 1924.
Member, Travancore Cochin Legislative Assembly (1954-56), 1st KLA [Pathanamthitta-CPI].
Secretary, KPAC; Renowned Stage Artist, Play Writer and Film Director.
Publications : Ningalenne Kammunistakki, Mooladhanam, Mudiyanaya Puthran, Aswamedham, Puthiya Aakasam Puthiya Bhoomi.
Expired on 08-12-1992; Obituary made on 04-02-1993.