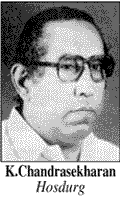 Graduate, L.L.B; Advovate; Son of Shri.K.Rama Varma; born on 22 September 1921.
Member, 1st KLA [Hosdurg-PSP], 2nd KLA [Hosdurg-PSP], 5th KLA [Badagara-Janatha], 6th KLA [Badagara-Janatha], 7th KLA [Badagara-Janatha], 8th KLA [Badagara-Janatha], 9th KLA [Badagara-Janatha Dal].
Minister for Law & Revenue from 22-02-1960 to 26-09-1962 and from 26-09-1962 to 09-10-1962, Minister for Education & Law from 26-03-1987 to 17-06-1991; Chairman, Committee on Subordinate Legislation (1958-59); Leader of Janatha Legislature Party in the 5th, 6th, 7th & 8th KLA and Leader of Janatha Dal Legislature Party in the 9th KLA; Member, Rajya Sabha (1967-76), Rubber Board, Kerala Sports Council, Bar Association of India & Supreme Court Advocates Association; Chairman, Kerala unit of P.S.P., S.S.P, I.S.P and Janatha Party.
Publications : Reflection on the Indian revolution, Let Us Unite, The Face of Freedom.
Address : Shanti, Thrikkakkara, Kochi – 21.