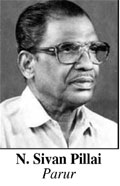 Son of Shri Madhavan Pillai and Smt.Janaki Amma; born in February 1918; Wife: Chellamma: 1 son (Shri.P.Raju, Member X KLA) and 1 daughter.
Member, 1st KLA [Parur-CPI], 7th KLA [Parur-CPI] (Election set aside by supreme court on 5-3-1984) 8th KLA [Parur-CPI].
Chairman, Committee on Government Assurances (1982-84); Member, CPI State Committee; Entered politics through INC in 1938; Actively participatead in Freedom movement; Undergone imprisonment for seven years; Joined Communist Party in 1945; Went underground for one and a half years.
Recepient of Thamra Patra and Political Pension of Government of India.
Expired on 13-03-2004; Obituary made on 28-7-2004.