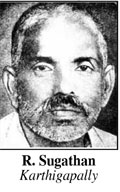 Passed Malayalam Higher Examination; Teacher; born on 23 December 1901.
Member, Travancore-Cochin Legislative Assembly (1952&1954), 1st KLA [Karthikapally-CPI] – 2nd KLA [Karthikapally-CPI].
Was a teacher for about 15 years before entering politics through Travancore State Congress in 1938; later joined Communist Party; Participated in Freedom movement; Imprisoned for 4 ½ years, General Secretary, All Travancore Trade Union Congress and Vice President, All Kerala Trade Union Congress; donated share of family property to the Communist Party.
Expired on 14-02-1970; Obituary made on 02-03-1970